Features
Print at speeds up to 50 ppm.

Outstanding productivity with heavy weight and coated papers: feed all weights and sizes from all trays, with no decrease in print speed up to 220 g/m2 / 80 lb.

Exceptional image quality with 2400 x 2400 dpi
resolution and VCSEL technology.

Modular finishing options with High-Capacity Stacker and Common Stacker/Stapler that can be used individually or combined.

Wide media latitude, including heavy-weight, coated stocks, and specialty media substrates.

User-friendly interface gives you job control and operator information.

Key Applications
* Ideal for commercial printers, in-plants, and quick printers who require production capabilities at an affordable price:

Broad range of substrates.

Outstanding productivity on heavy weight stocks.

Exceptional print resolution and registration.

* Supports a wide range of high-value applications including mixed-media jobs, such as:
Catalogs, brochures, manuals, books, personalized marketing materials, Training manuals, presentations, newsletters,
Variable data printing.
See color in a brand new light with the power of Xerox DigiColor. Get dramatic digital color and sharp image quality at a price that's next to nothing. and give each of your precious prints that extra touch of brilliance.

With Xerox DigiColor, You can customize just about anything. So use it in all kinds of creative ways to personalise visiting cards, invitations or even labels!

Come explore a whole new world of color with Xerox Digicolor.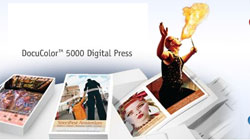 Personalise Cards & Invitations
Make an invite or card extra personal with a picture or a message. You can even create your own birthday caps and party decorations!
Personalise Visiting Cards
Give your visiting card your own signature style by adding a picture.

Personalise Labels & Certificates
Get creative with school labels & certificates.
Merge Pictures
Is someone missing in your family portrait? Merge this missing person and make the picture complete!

Personalise Menus, Coasters & Tent Cards
Jazz up menu cards, coasters, table mats and tent cards.